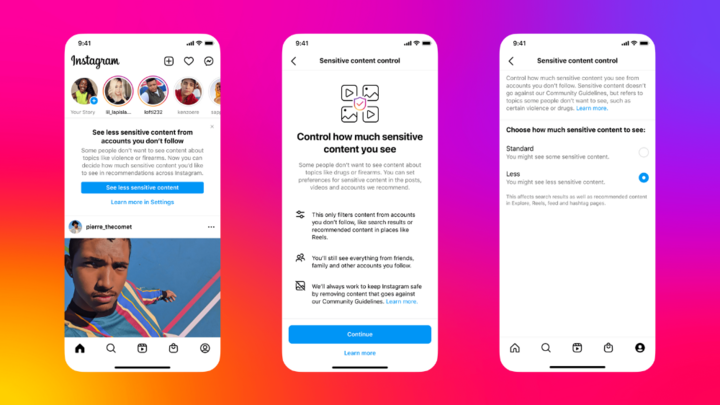 Last year, Instagram head Adam Mosseri announced changes to how it recommends content to teens, days before appearing in front of the US Senate over apps' impact on its teenage users. Now, the app is tightening the default content recommendation for teens, selecting "Less" experience by default for new teen users signing up on the app.
Instagram currently has two sensitive content control options, "Standard" and "Less." If they select the "Standard" option, users will be shown some sensitive content, while the "Less" shows little to no sensitive content while browsing the app.
New teen users below 16 years of age signing up on Instagram will default them to the app's most restrictive content setting, i.e. "Less." Meanwhile, existing teen users will be notified to switch to the "Less" setting if they have not already. There is a "More" option, but that is only limited to users over 18.
The changes will be rolling out to the app across the globe.
Instagram is also testing a new prompt nudging its teen users to review their privacy and safety settings. Soon, the app may show teens to review their privacy and safety settings, showing them who all can reshare their content, message them, what content they can see and improve their time management.
Earlier this year, in March, the app introduced its first set of parental controls, allowing parents to keep an eye on their child's Instagram account. Either a teen can enable the supervision feature for their account, or parents themselves can request their kids to allow them to supervise the account.
The feature lets parents or guardians keep a tab on how much time their teen spends on the app or set limits. Furthermore, the parents can also see the people they are following and being followed by, in addition to receiving a notification whenever their kid reports someone on the app.
FacebookTwitterLinkedin
---